Contact Us
Call, Fax, Email or visit our web site for easy contact with our firm. We look forward to discussing your needs with you.
Phone: (727) 449-2837
Fax: (727) 499-7510
Email: info@stgcinc.com
Mailing Address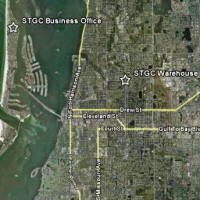 955 Bruce Ave.
Clearwater, FL 33767
Hours of Operation
Monday - Friday 09:00 a.m. - 05:00 p.m.
Closed Saturday and Sunday
Driving Directions
Warehouse on Highland Ave
Turn South from Sunset Point Rd
Turn North from Drew Street.
Located on East Side of Highland Ave.